Happy 23rd Anniversary to us
😊
I've said many times that 23 years ago I started Jill's Jams and Jellies with a big dream and very little supplies. I'm always shocked when I look back and see how much we've grown and how far we've come.
Thank you to my family for making this dream a reality and to all my beloved customers who have purchased from me and given me encouragement.
I love you all! 😊🤗😘
~Jill~
It seems an appropriate time to share a few pics of the largest growth we have had at Jill's Jams and Jellies.
"The Move"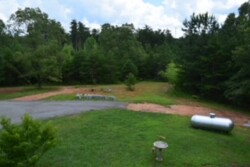 I had definitely out grown the small kitchen I had been cooking in for over 20 years. We needed more land for extra fruit trees and a bigger garden. So, we made the decision to relocate. I was born and raised in Forsyth County, Georgia and lived there almost my entire life, 28 of those years in the very house where Jill's Jam started and has been operating for the last 23 years.
Leaving our Forsyth County home was tough. I was sad. My daughters were sad. But, we've been in our new house for 6 months now and each day it feels more and more like HOME.
The new "jelly kitchen" has been completed and it's so roomy. I even have added 4 new cook top burners.
Steve has spent the winter months building the second building which will be for our finished product and also for the shipping department. We call it our "County Store" as that is how I'm decorating it.
When we made the move, we decided not to offer free delivery, so instead soon we will be offering "Farm Pick Up". We will post on the web site when Steve has finished the building. He has to take a few weeks off to prep this years garden spot and to plant many more fruit trees.
Moving our Fruit Trees
For more updates follow us on our social media accounts and for daily updates on our progress check our Instagram Stories.
https://www.instagram.com/jill_graham_phillips
https://www.facebook.com/Jillsjam/
Much love and gratitude for your support the last 23 years.
Jill